Unrivaled Track Record of Value Creation
The Augusta Group is led by its founder, Richard Warke, and principals, Donald Taylor, an award-winning exploration geologist, Daniel Earle, a thought leader in the mining sector, and Purni Parikh, an experienced steward of corporate and regulatory affairs.
Our specialization is surfacing value through our award-winning exploration efforts and rapidly advancing projects with consistent access to low-cost capital through exploration, feasibility, and permitting to point of sale or into production.
Past Returns
Augusta has an unrivaled track record of value creation in the mining sector, with over C$4.5B in exit transactions since 2011. This includes: the sale of Ventana Gold for C$1.6B in 2011; the sale of Augusta Resource for C$667M in 2014; Co-Founder of Equinox Gold in 2017, now a mid-tier gold producer with a market cap over C$2.2B; and the sale of Arizona Mining for C$2.1B in 2018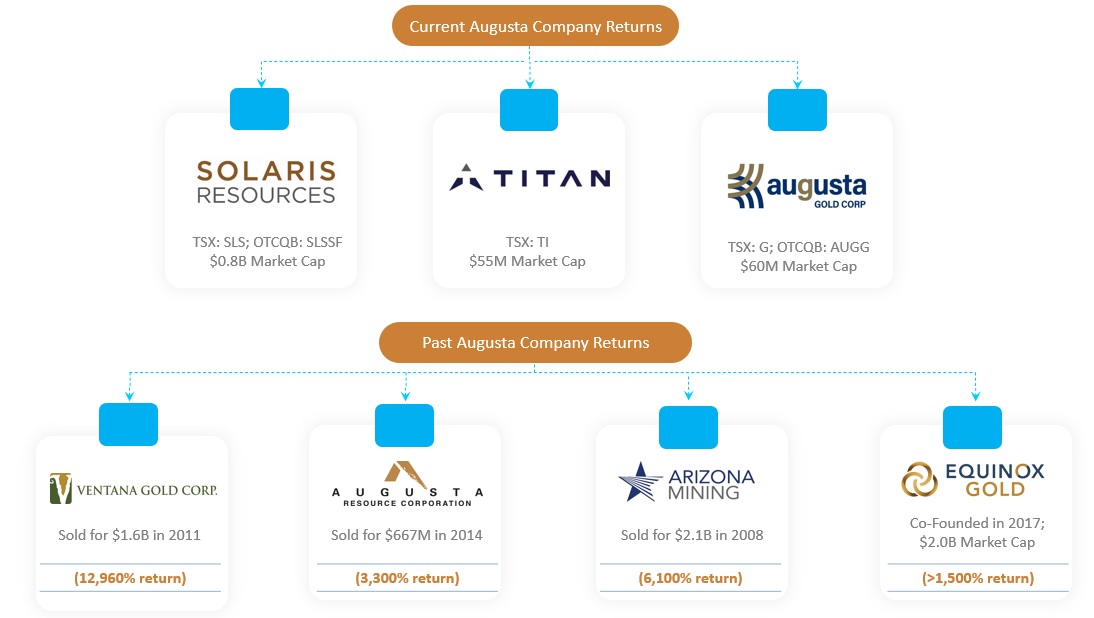 Note: The results for Ventana Gold Corp., Augusta Resource Corp., Arizona Mining Inc., and Equinox Gold Corp., are independent of the results of the other Augusta Group companies and are no guarantee for the future performance of those companies. Undue reliance should not be placed thereon when considering an investment in the Augusta Group companies.